Description
Stihl GTA 26 cordless hand pruner.
Cordless garden pruner with a wide range of uses.
For pruning trees and shrubs, cutting up garden waste, and wood-based DIY projects.
With a 1/4″ PM3 saw chain for excellent cutting performance and powerful cuts.
Non-slip control handle for perfect ergonomics.
Tool-free chain replacement and flexible protective hood for safe work.
Included in the set: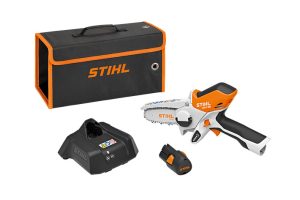 1 x GTA 26 cordless garden pruner
1 x 10 cm Light guide bar 1 x 10 cm 1/4″ PM3 saw chain
1 x AS 2 lithium-ion battery, 28 Wh, 10.8 V
1 x AL 1 standard charger
1 x Carry bag with eyelets for wall-mounting
Technical data;
Bar length – 10cm
Rated voltage – 11V
Weight – 1.2 Kg without battery, bar and chain
Vibration level left – 2.9 m/s²
Vibration level right – 2.8 m/s²
Sound pressure level – 77 dB(A)
Chain gauge1/4″ Picco
https://www.youtube.com/watch?v=ayIUi_LV4zo