Description
Echo SRM4300 brush cutters are ideal for tough, large-scale mowing jobs, veld clearing and roadside maintenance capable of working daily.
Echo SRM4300 brush cutters have a multifunction bike handle, with 4-point handle adjustment.
Suitable for Garden services, Schools, Plot owners, Game farmers, Municipalities.
Cut through the thickest brush with this powerful U-handle brush cutter for heavy duty jobs.
The ECHO SRM-4300R features a super powerful 42.7cm³ professional grade engine and weighs just 7.9kg.
With a large fuel tank and easily accessible heavy duty air filter you can keep powering on and on.
Designed for the biggest commercial jobs it's robust yet lightweight and manoeuvrable.
ECHO engine.
Manufactured in Japan to the highest standards, it's built to be powerful, efficient and dependable, with 42.7cm³ of power you can cut through dense brush with ease.
The engine is kept free from dust and debris by a heavy duty air filter.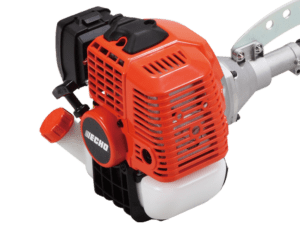 Integrated throttle.
The integrated throttle control grip, including throttle lock-out lever, cable adjuster and ignition switch, ensures operator comfort and safe operation.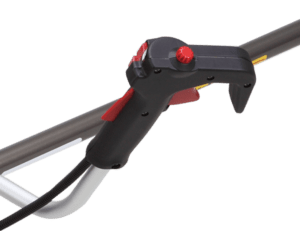 Swivel mechanism.
The SRM-4300R is equipped with a swivel mechanism that allows the operator to position the main pipe for ordinary operation, and re-position it for transportation and storage.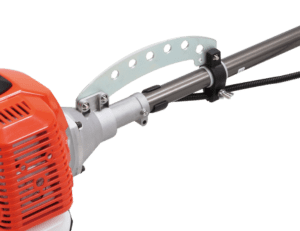 Best Features;
Powerful
Features one of ECHO's most powerful engines.
Ergonomic
Designed to maximise efficiency and comfort.
Ease of use
Power on and get to work. Intuitive controls and features make your job a breeze.
Features:
42.7cc / 1.51KW
Output – 2.05ps
Dry Weight – 7.9Kg
Fuel tank capacity – 1 litre
Fuel Consumption At Maximum Engine Power – 1.22 L/h
Drive shaft diameter – 8mm
Main pipe diameter – 28mm
Gear reduction ratio – 1.33
Standardised Nylon Head – 4-cutter metal blade

2-Stroke

50:1 2-stroke petrol mixture

Heavy-duty, made in Japan

Double Handle
Double shoulder harness
Supplied with blade only
Diaphragm carb
Full spares back-up