Description
Professional Hi-Vac lawnmower with Torx VX200 – secondhand chassis with brans new engine – for garden services, large lawns, complexes or any other hard work.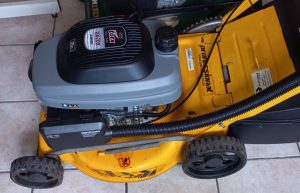 Tandem Torx XT200 Industrial 4 stroke engines, designed to work hard
A Torx XT200 engine is the best choice for garden services, landscapers, office parks, and large townhouse complexes.
The Torx XT200 is here to do any heavy-duty or industrial push-type lawnmower requirement, on flat lawns or grass.
This engine is the ideal replacement engine to go for and has on many occasions proved to us that it can outlast the lawnmower chassis it was sold on.
The reconditioned Hi-Vac Rotary Lawnmower chassis is the highest quality lawnmower chassis available in South Africa, built to last in the toughest environments.
The machines are feature-rich and very simple to operate.
Single-lever height adjustment means instantaneous adjustment of cutting height & no fiddling with separately-adjusted rear wheels.
A one-piece pressed steel chassis makes for a perfect compromise between excellent strength and light weight.
The cutting blades are heat-treated to ensure that they can handle impact and outlast regular blades.
The high vaned blades have been scientifically designed to give a power vacuum that reduces spilling to almost nothing.
Simple and reliable.
Large wheels will smooth out the most uneven lawn, and a wide discharge area prevents clogging no matter how damp the cuttings.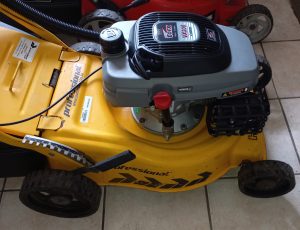 Features;
Chassis type -Steel
Cutting width – 460mm
Height adjustments – 12 positions – 20 – 60mm
Chassis thickness – 2mm
Wheels Front – 15.5cm
Wheels Back – 20.5cm
Grass catcher capacity -45L
Recommended lawn size – Large

Torx XT200 4 stroke engine – simply tough, robust and reliable

196cc
6.5hp
1 litre petrol tank
93 Unleaded fuel
4 – stroke engine has 600ml oil tank capacity
4.8KW max power
196cc vertical shaft air-cooled engine
Recoil starter
Max torque 10Nm/10 000 RPM
Nett weight – 10.9Kg
Supplied with snorkel pipe to facilitate clean air intake
Suitable for both flat lawns & slopes up to 30 degrees