Description
Stihl BG 86 – Our most powerful handheld petrol blower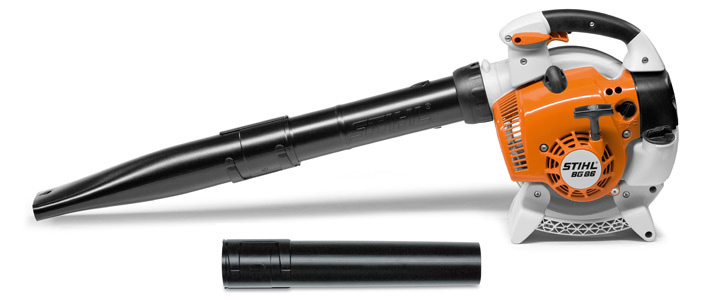 For the toughest landscaping challenges, professionals turn to our most powerful gasoline-powered handheld blower, the STIHL BG 86.
It features a fuel-efficient, low-emission gasoline-powered engine, and includes both flat and round nozzle attachments for better job versatility.
The blower is also one of our most comfortable to use, with a four-spring anti-vibration system, a soft-grip handle and our ElastoStart™ shock-absorbing starter.
Features;
HD2-Filter
The HD2 filter has superior filtering properties when compared to our original HD filter. It has significantly finer pores than foam filters and filters even the finest dust. In addition, the new HD2 filter is easily to clean. As a result, the filter allows for a much longer service life.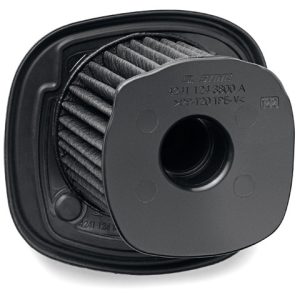 STIHL 2-MIX engine with stratified charge system
2-stroke engine with stratified charge. A fuel-free layer of air is created between the burned charge in the combustion chamber and the fresh charge in the crankcase, reducing the amount of fuel lost during the charge cycle. This results in more power with a lower weight, up to 20% lower fuel consumption than regular 2-stroke engines and significantly reduced exhaust emissions.
Anti-vibration system
Intense vibration at the handles of power tools can lead to longer-term effects of blood vessels in the hands and arms. STIHL have therefore developed an effective anti-vibration system where by the oscillations from the machines engine are dampened which significantly reduces vibrations at the handles allowing for more comfortable and safer operation.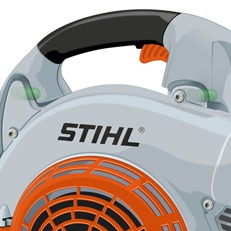 Throttle lock with built in stop switch
The running machine switches off immediately after a brief press of a button. Once the machine is at a standstill, the ignition activates again automatically, meaning it is always ready to start.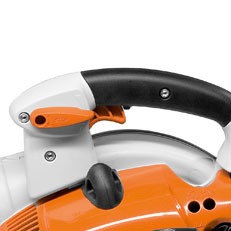 One handled control with soft grip area
For a secure and comfortable grip. The integrated anti-static system counters electrostatic charging.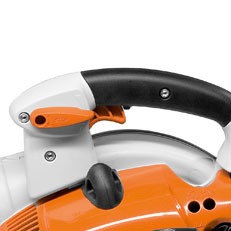 STIHL ElastoStart
STIHL ElastoStart reduces the shock caused by the compression of the engine during starting. The compression shock is taken away from the user's joints and muscles through a spring or rubber element in the starter handle.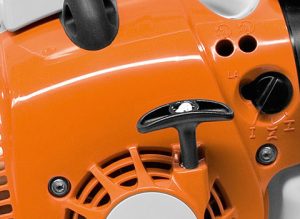 Manual fuel pump (Purger)
A small fuel pump delivers fuel to the carburettor at the touch of a button. This reduces the number of starting strokes required following extended breaks in operations.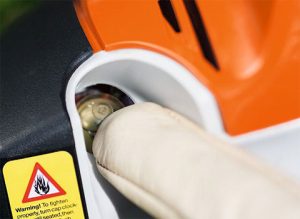 304Km/h air velocity with flat nozzle
246Km/h air velocity with round nozzle
Ideal for use at hotels, resorts, parking lots, paths, etc.
Technical data
| Technical data | Value |
| --- | --- |
| Capacity cm3 | 27,2 |
| Blowing force N 1) | 15 |
| Weight kg 2) | 4,4 |
| Performance kW | 0,8 |
| Sound power level dB(A) 3) | 104 |
| Max. air throughput m3/h 4) | 810 |
| Tank volume l | 0,44 |
| Sound power level dB(A) 3) | 106 |
| Sound pressure level dB(A) 3) | 93 |
| Max. air speed m/s | 76 |
| EPA Certified fuel consumption l/h | 0.44-0.442 |
1) Combination of air speed and air throughput
2) In the blowing operation
3) K-factor according to DIR 2006/42/EC = 2.5 dB (A)
4) Without blowing tube and nozzle
The version(s) available in each country may differ from the above range and specifications; specific details may be subject to change without notice. Please ask your local STIHL Approved Dealer for further information.