Description
Powerful clearing saw for working on large areas of tough grass. Anti-vibration system, multi-function handle, bike handle.
The Stihl FS 160 semi-professional brush cutter cuts through thick and thin when the motor mower is out of its depth, for instance on steep ground studded with bushes and trees.
Using the Stihl 300MM brush knife it can be used for everything from trimming lawn edges to thinning gnarled scrub.
STIHL ElastoStart
STIHL ElastoStart is a special starter handle which ensures a smooth starting process without any sudden peak forces. The integral damper smooths the power profile that is generated during starting and makes the starting process a lot easier.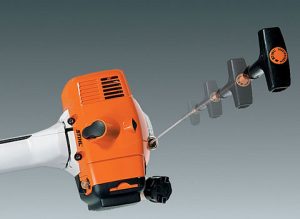 Multi-function control handle
Easy, comfortable thumb-operated control means the operator's hand never leaves the handle.
Bike handle
When used in conjunction with a harness, the bike handle enables a smooth mowing action. The bike handle allows the machine to be easily guided, making it ideal for working on large areas and thus reducing fatigue.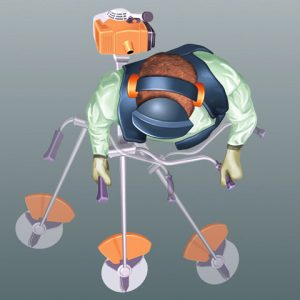 Anti-vibration system
Intense vibration at the handles of power tools can lead to long-term effects on blood vessels in the hands and arms. STIHL has therefore developed an effective anti-vibration system whereby the oscillations from the machine's engine are dampened which significantly reduces vibrations at the handles.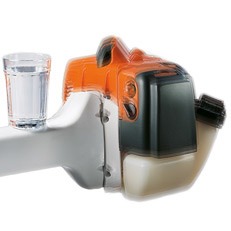 Shoulder strap / carrying system
Using a STIHL shoulder strap or carrying harness with soft padding makes work more comfortable, particularly during lengthy jobs.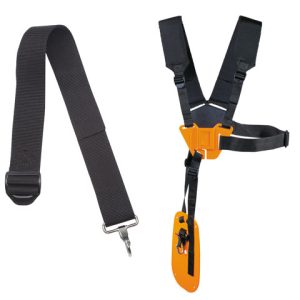 Manual fuel pump (Purger)
A small fuel pump delivers fuel to the carburettor at the touch of a button. This reduces the number of starting strokes required following extended breaks in operations.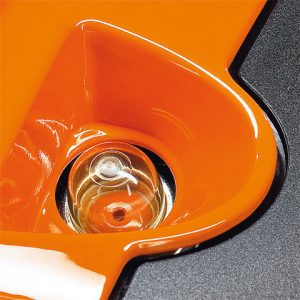 Goggles
It is important to protect your eyes from flying particles and harmful UV radiation. Therefore a pair of safety goggles/glasses are supplied with the the machine. Note: Additional face protection must be worn when working with brushcutters.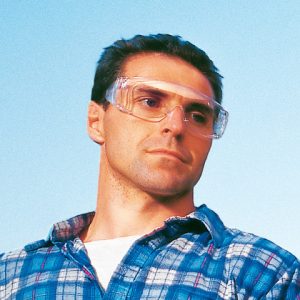 Deviations from the product range and information provided here are possible, depending on the country. STIHL reserves the right to make changes to technical specifications and equipment.
Technical specifications
| Technical specifications | Value |
| --- | --- |
| Displacement | 29,8 cm³ |
| Power output | 1,4/1,9 kW/bhp |
| Weight 1) | 7,4 kg |
| Sound pressure level with plastic tool 2) | 98 dB(A) |
| Sound power level 2) | 110 dB(A) |
| Vibration level, left/right with plastic tool 3) | 2,5/3,5 m/s² |
| Total length 4) | 180 cm |
1) Weight excluding fuel, cutting tool and guard
2) K-factor according to DIR 2006/42/EC = 2.5 dB (A)
3) K-factor according to DIR 2006/42/EC = 2m / s ²
4) Without cutting tool