Description
A Petrol Chainsaw for Forestry – Stihl MS382 with 37cm guide bar.
Durable, powerful and robust.
This mid-range professional saw combines useful technology with minimum weight and is indispensable for many jobs on the  farm and in the forest.
The Stihl MS382 is suitable for professional Tree Fellers & Foresters alike, capable of working all day, provided regular maintenance takes place.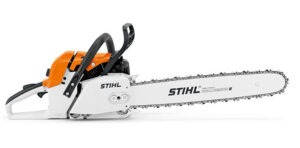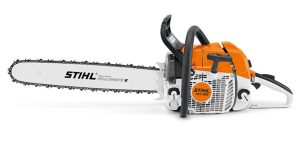 Stihl MS382 Heavy-duty chainsaws are robust, reliable and manufactured to the highest quality standards that ensure it is equipped for processing big timber loads.
Ideal for thinning medium stands and can be used for heavy duty jobs like those found on a wide variety of commercial applications or farms.
Stihl MS382 chainsaws have high engine power combined with a relatively low weight and state-of-the-art technology allow the user to work comfortably even in difficult conditions.
Features:
Decompression valve
The decompression valve is part of the easy starting system. The valve should be pressed before starting to reduce the compression pressure when starting, as well as reducing the effort needed to pull the starter rope. The decompression valve is semi-automatic; it must be pressed manually before starting, but then closes automatically.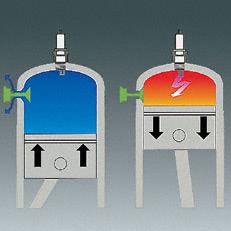 STIHL ElastoStart
Due to compression pressure, jerky stresses occur when starting internal combustion engines. The damping element in the ElastoStart special starter grip alternately absorbs and releases force according to the compression pattern. The result is smooth, even starting.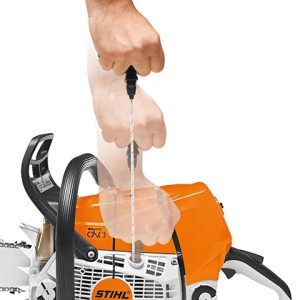 Side-mounted chain tensioning
Side-mounted chain tensioning makes it easy to tension the chain safely.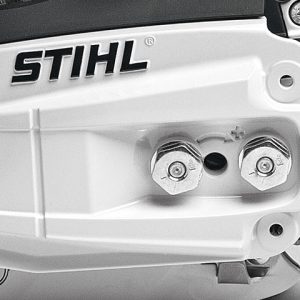 Controlled-delivery oil pump
Different bar lengths, wood types and sawing techniques require different amounts of oil. The controlled-delivery oil pump allows the user to select just the right amount of oil for the job at hand.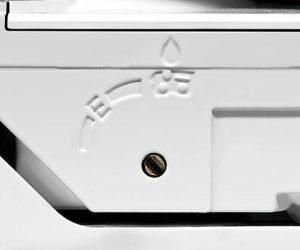 STIHL anti-vibration system
Precisely calculated buffer zones minimise the transfer of engine and saw chain vibrations to the front and rear handles. The chainsaw therefore runs noticeably smoother. This allows the user to save their strength and work longer.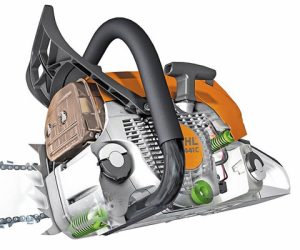 Compensator
This controller in the carburettor prevents the fuel-air mixture getting richer as the air filter becomes clogged. The correct quantity of fuel is delivered to the carburettor depending on the quantity of air passing through the air filter. This keeps the fuel/air ratio in the combustion mixture constant and hence also the engine power. The filter doesn't need to be cleaned until an appreciable drop in power occurs.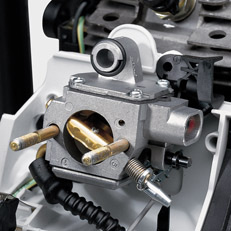 Single-lever master control
All important functions such as start, choke, throttle and stop are operated via a single lever.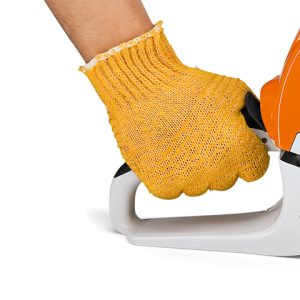 STIHL Ematic System
Compared to conventional bars without Ematic, the STIHL Ematic system reduces the consumption of chain lubricant by up to 50 %, depending on the type of wood and the cutting attachment used. This system comprises a STIHL Ematic or Ematic S guide bar, a STIHL Oilomatic saw chain and a variable-flow or reduced-flow oil pump. As a result, virtually every drop of chain lubricant is delivered to exactly the right spot.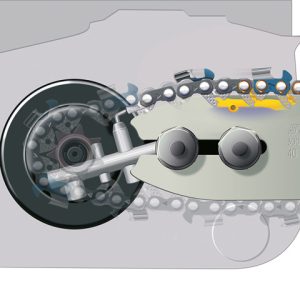 Speed at maximum power Um – 9500
Guide bar 37cm (price increases as length increases)
Elasto-Start handle on pull cord for easy starting
Compensator carburettor
Decompression valve for easier starting
Side-mounted chain tensioning
Controlled-delivery oil pump
STIHL anti-vibration system
Single-lever master control
Quickstop chain brake
With 37cm guide bar
Special price R9 995.00 on 37cm model
Technical data
| Technical data | Value |
| --- | --- |
| Displacement cm³ | 72,2 |
| Performance kW | 3,9 |
| Weight kg 1) | 6,2 |
| Power-to-weight ratio kg/kW | 1,6 |
| Tank volume l | 0,68 |
1) Without fuel, without bar and chain
The version(s) available in each country may differ from the above range and specifications; specific details may be subject to change without notice. Please ask your local STIHL Approved Dealer for further information.