Description
What you get when you buy a Tandem Ratel(S) Torx VX200 lawnmower is a mower that is as tough as a "Ratel" or Honey badger, and here are the reasons why; .
Although the Torx VX200 engine is available on other branded lawnmower chassis, the reason why the Tandem Ratel chassis is more durable, robust & reliable is because they have replaceable steel front and steel rear stub axles with 2 steel wheel bearings located on both sides on all the robust mag wheels.
Two steel wheel bearings below;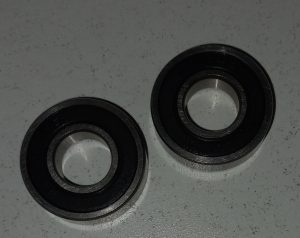 Mag wheel with 2 steel wheel bearings below;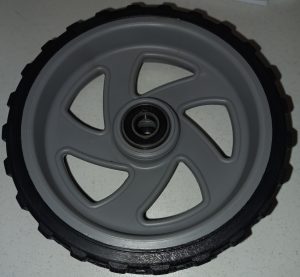 Replaceable steel stub axles below;

The cheaper lawnmower mowers fitted with the Torx VX200 engines have plastic coated axles with inferior, thin and flimsy plastic wheels and plastic wheel bushes.
So if you think you are getting a cheaper bargain for a lawnmower that has a Torx VX200 engine that is not on a Tandem Ratel(S) chassis, you are in fact getting a mower with wheels and axles that will wear out & fall apart much sooner than is the case with our quality steel Tandem Ratel(S) lawnmower.
So, these are reliable mowers manufactured with top quality pressed steel chassis, steel wheel bearings, steel front and steel rear axles, & will give you many years of good service.
Solid mag wheel + bearings on steel axle below;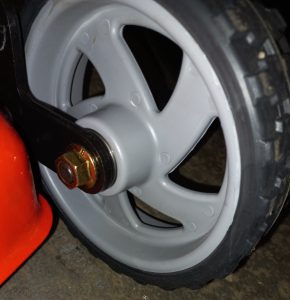 These mowers are fitted with the superior, powerful & reliable Torx VX200 engines which are suitable for use in African conditions.
Tandem Lawnmowers are manufactured in South Africa & boast full spares back-up.
Features:
Torx VX200 Superior 200cc 4-stroke engine
460mm Cutting width
Single lever height adjuster with 11 height settings
48 litre Grass box
Heavy-duty pressed steel chassis
Heavy-duty mag wheels
Two steel wheel bearings per wheel
Steel front axle
Steel rear axle
Blade disc with 3 swing back blades for efficient cut and lawn collection
Suitable for flat lawns with slopes under 30 degrees